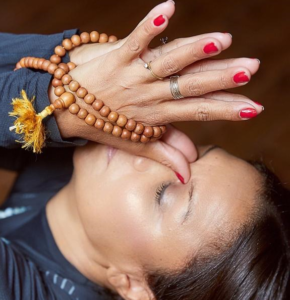 Sayonara Motta

E-RYT200/500 YACEP
300RTY Advanced Teacher Therapeutic Yoga
800-Kripalu enrolled IAYT
Master trainer attiva in molti ambiti del fitness internazionale da più di 25 anni. Ha un spirito energetico, positivo e innovativo.
Laureata in Educazione fisica in Brasile, ha studiato biomeccanica con l'applicazione al movimento sportivo. La sua vita atletica l'ha spinta a ricercare un percorso meditativo e yogico per dare supporto alle gare dove ha conquistato due titoli mondiali.
Sayonara è CEO & Founder di Fiteducation, scuola che offre un sistema di Education riconosciuto a livello mondiale da più di 15 anni, a chi vuole intraprende un percorso formativo specialistico. Inoltre propone percorsi di yoga e meditazione, workshop a tema, retreat in Italia e all'estero. Ha fondato DevayogamyndSchool dal 2017 in Italia.
Ha iniziato il suo percorso yoga a NY con Power Yoga. Ha studiato con Eyal Shifroni, Stewart Gilchrist, Gabriella Cella e studia con Art Of Living a Milano, Meditazione Transcendentale con Sri sri Ravi Shankar.
Il suo percorso personale è multidisciplinare. Ha studiato, Taich-Chuan , Educazione al movimento integrato, Pilates Contrology con Inèlia Garcia, Postural training con metodologia di Mezieres e Souchard. Ha studiato Bioenergetica e meridiani, Tecnica di Shiatsu.
Ha una lunga esperienza nel settore nella industria del fitness e Wellness rappresentando marchi Internazionali. Master trainer per Nike Global, Master Trainer AntiGravity Fitnes & Yoga, ha portato in Italia la tecnica nel 2007 affiancando il suo ideatore Christopher Harrison come assistente in Europa. Master Trainer di MFR con BLACKROLL. Ha iscritto più di 10 programmi di allenamenti dei quali per Nike, "Yogamynd" & " Flex Zone". Certificazione Low pressure Fitness , studiando con Mimi Adami.
Sayonara, attualmente sta studiando la scuola di Yoga Therapy a Kripalu USA per qualificarsi come Yoga Terapista con i maestri, Mary Northey, Joseph Le Page, Lisa Nelson, Kaelash Neels, Marlysa Sullivan, Cathy Prescott, and Beth Gibbs.
Leggi di più su Sayonara
www.fiteducation.it
www.sayonaramotta.com